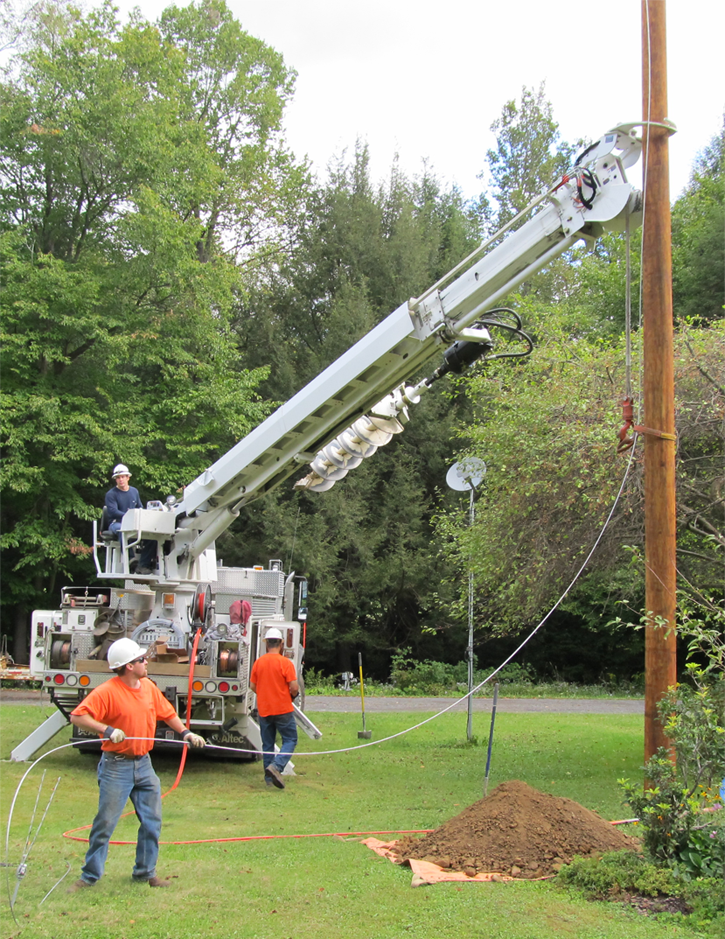 As a service to our members, United Electric will install meter poles for home services or center poles for farmstead metering. This service is available for new services as well as revamps. United crews will not transfer the customer's existing service equipment to the new pole. The member must have his/her own electrician transfer any old equipment to the new pole. In order for United to set a pole, the location of the pole set must be line truck accessible and the area must be dry enough to move equipment around without getting stuck.
United's crew will install the service entrance (meter loop) for members also having a meter pole installed by the co-op.The meter loop consists of a 100- or 200-AMP meter base/disconnect panel (must be the same as main breaker in the structure), weatherhead, entrance cable, ground rods, ground fault receptacle (GFI), hardware required for assembling and labor involved in mounting this equipment. This will give the member a complete service entrance at a very competitive price. Members may also purchase this equipment at our location in DuBois and have their own electrician install, however the member will be required to have the service inspected by the electrical inspection agency approved by the township the service is in (this is NOT required if United's crews install the equipment. The disconnect panel does accept additional breakers, and these and replacement mains can be found at local electrical suppliers.
Please contact our engineering department for more information, as well as current pricing. 888-581-8969 or 814-371-8570
In all cases, the meter pole and/or service entrance equipment is being purchased by the member and becomes his/her responsibility (just as if any other contractor performed the installation). All equipment on the pole, apart from the meter, is the member's property. United Electric accepts no responsibility for the maintenance or repair of this equipment, and will not be held liable for damage to property, underground utilities, pipes or drains. Services are only available to United Electric members, and any pricing given does not include tax and is subject to change without notice.